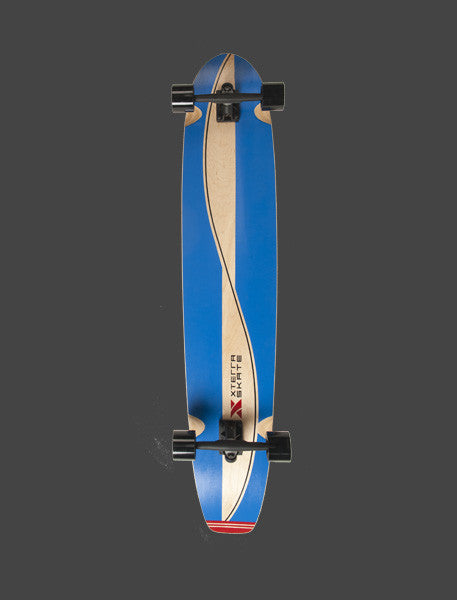 Wave - 48" - Complete Board
The Wave is a 48" longboard designed for cruising in the street.  All of our boards are designed for stability and smooth riding for all levels of skaters.
Your complete skateboards comes with trucks, hardware, and wheels. Our decks are made in San Diego, California, just two miles from our offices. The factory is a beautiful workshop that as been producing skateboards since 1975. It's a museum as much as it is a factory. Each deck is hand-crafted, and the design you see is screen printed. This means every board is unique.
Our wheels, trucks, hardware and risers are MADE IN THE USA.
Our boards are the best you'll find and are ideal for all types of riders. We make and source almost everything in the USA to ensure the absolute best quality.
All of our boards come with a 30-day money-back guarantee. Take the board out for a month and, if you're not absolutely satisfied, return it for a full refund.
Specifications
48" x 9.25" birch hardwood deck
180 mm trucks, black (see more details below)
66 mm burner wheels, black
Sideset wheels - the bearings seat at the inner lip of the core
Abec 5 bearings
Iron oxide coated hardware
Angled truck riser pads - black
TRUCKS - MADE IN THE USA - Our trucks are 180MM / 50º
For carving tight, quick turns while maintaining a stable geometry.
Maintain stability at higher speeds, through turns and while pushing.
50º Base plates are designed for boards with longer wheel bases.
Randal R•II geometry allows for adjusting caster angle by flipping the hanger.
Base plates and hangers interchangeable with the Randal System.
Virgin grade aluminum. Grade 8 'cast in' axle.
Hanger width is 180mm, axle width is 245mm.
Lightweight hanger design.
Grade 8 king pin.
Lifetime Guarantee.
Made in the USA.